Any company that wants to expand should make business development a major focus. There are a variety of strategies for effective business development, and some may perform better than others based on your company and its objectives.
In this article, we'll look at how to develop a strategy and plan that may drive a person, a practice, or a whole company to greater levels of performance and success.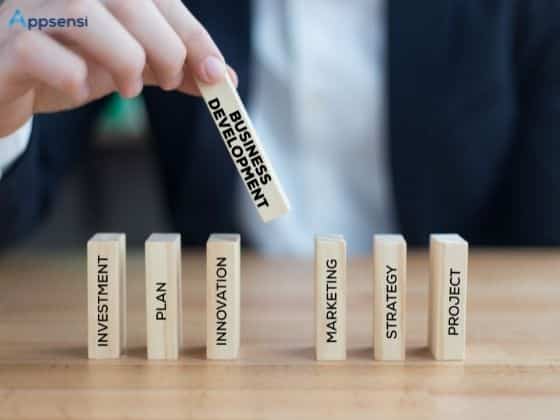 Understanding Business Development Strategy
To drive corporate growth and enhance profitability, business development is the process of identifying, nurturing, and acquiring new clients and many possibilities.
In essence, it is the process of creating long-term value for a company via the use of consumers, markets, and connections. The business growth strategy is the manuscript that lays out the plan for achieving that aim.
Business development covers a broad range of activities and duties both inside and outside of the typical sales team. Business development is sometimes a component of the broader sales operations team. In some cases, it's a component of the marketing team, while in others, it's its own group.
What Are The Benefits of Having a Business Development Strategy?
A solid business development plan is a road map for your team to follow to locate and produce high-value leads that will help you achieve your long-term objectives.
According to Forbes, one of the most common reasons why businesses fail is because they don't give a business plan.
Without a strategy, your team may struggle to locate qualified leads or, in the worst-case scenario, spend months nurturing leads that don't convert.
Also read: Learn the Steps to Achieve Your Company Goals Here!
Creating Business Development Plan for Your Company
To build a solid, dependable company growth plan, here are some major phases to follow. Here are a few business development strategies that businesses should utilize.
1. Know what your competitors are up to.
You must have a good awareness of the competitive environment in your sector before you can design a strategic plan to promote business success.
When you've figured out who your ideal customers are and what problem they're trying to address with your product or service, see who else in your sector is offering the same solution.
Determine which other companies are active in your industry. What distinguishes their products? Is their pricing competitive? Are their systems compatible with third-party software? Get a comprehensive picture of what your competitors are giving so you can tell how to set your product apart from theirs.
2. Identify relevant KPIs.
How will you know whether your attempts to grow your business were successful? Make sure you can track your progress with relevant, meaningful key performance indicators (KPIs) that represent your company's health.
These indicators should provide you with a clear picture of how effective your business development activities are.
3. Customer feedback should be considered.
If and when consumers are eager to give feedback about your sales process and services, make sure you listen to them and act on it. Because they choose your product over the competition, your customers have a unique and important viewpoint that can help you build your strategy to stay ahead of the competition.
According to research conducted by NewVoiceMedia, 58% of people will never contact or use a business's product ever again after having a terrible encounter with them. So, it is your responsibility to go above and beyond for the customer to meet or surpass their expectations.
4. Evaluate different marketing channels.
There are so many marketing platforms for businesses to pick from that it's easy for a business owner or marketing staff to become overwhelmed. A company can choose between social media and in-person marketing, or a combination of both, depending on its budget and human resources.
Although, it is not necessary to use all of the channels since it is not viable to do so profitably. The resources required to adequately accomplish outcomes from all channels would be enormous.
Furthermore, not every marketing channel accessible is appropriate for every organization. To figure out which marketing channel combinations are optimal for different organizations requires a lot of trial and error via testing.
5. Decide on a business development strategy.
Decide on an implementation plan after you've determined your strategic objectives. The following are some examples of common company growth strategies:
Referrals
Advertising and sponsorships
Outbound phone calls and mail
Marketing with content
To get better outcomes, consider mixing tactics. To grow your business, for example, you might adopt a networking and referral strategy. To generate leads, have a staff network with investors at conferences and events, and ask your first few customers for references.
After you've decided on a plan, write down who in your team is in charge of completing each assignment. Consider employing a business development manager to oversee the entire process.
Also read: Understanding Corporate Strategy, How Important Is It?
6. Outline how you'll keep track of the project's progress and impact.
These crucial aspects are frequently ignored, yet they may be the difference between success and failure.
Strategies that aren't put into action don't work. Keep note of what you do, and when. This will both push you to take action and provide you with a good starting point for troubleshooting your plan. Also, keep an eye on and document the effects you notice. The amount of new business you close will have the most noticeable impact. At the very least, you should keep track of new leads or connections.
Finally, don't overlook critical process outcomes like referrals, fresh names added to your list, and content downloads, which expose prospects and referral sources to your knowledge.
What Does a Business Developer Need to Be Aware Of?
Because company development entails making high-level decisions, the business developer should be aware of the following:
In terms of SWOT analysis, the current situation of the firm (strengths, weaknesses, opportunities, and threats)
The current situation of the industry and predicted growth
Changes in the competition
Current business's primary sources of sales/revenues, as well as its dependence
The profile of the client
Market prospects that have yet to be discovered
New domains/products/sectors that might be used to expand the company's current operations
The long-term perspective, particularly concerning the measures being offered
The cost areas and various cost-cutting options
The Importance of Employee in Business Development Strategy
Because employee performance is critical to a company's overall success, owners require employees who can get the job done.
One of the most important parts of employee success is goal accomplishment. Successful employees meet deadlines, close sales, and promote the company via positive customer experiences.
When staff do not perform well, customers believe the organization is unconcerned about their requirements and will seek assistance elsewhere. On the other hand, if employees perform well, your customers will most likely stay with you.
Also read: The Definition and Importance of Company Culture
Sharpen Your Business Development Strategy with Appsensi
The growth of a company is never constant. Strategy, equipment, and market circumstances are all continually changing, therefore it's vital to have your personnel keep up with the latest developments.
One way of sharpening your business development strategy is by using Appsensi. It's a mobile attendance application that provides management solutions for your company.
With Appsensi, you can track your employee activity in real-time, give assignments and assessments to them. This app also has many features which help you to know the progress and monthly report. So, what are you waiting for? Register your business with Appsensi. You can click this link to learn more about our features and benefits.